The fascinating Preah Khan temple city in the jungle of Kampong Svay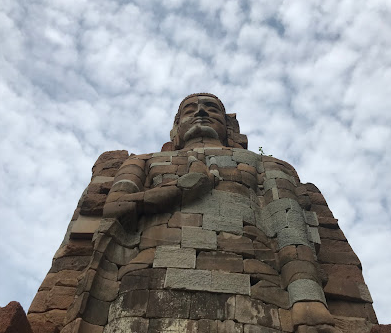 When you think of an Angkel temple in the middle of a jungle, overgrown by trees, Ta Prohm comes to mind first. Thinking of a large Angkor capital the city of Angkor Thom (roughly 4 km x 3.8 km) comes to mind, with Bayon at its centre. Thinking of a remote lonely temple, then maybe Koh Ker or Banteay Chmmar.
However, there is one temple that has all of these attributes and even surpasses them. It is Preah Khan – but not the Preah Khan 200 meters northeast of Angkor Thom. There is another spectacular temple of the same name in Kampong Svay district of Preah Vihea province. Actually, Preah Khan is a temple city. It is a 3.5 hour drive from Siem Reap over 167 km. First head southeast along National Road 6, which also leads to Phnom Penh. Then after 110 km in Stung further north to Ta Seng (Ta Saeng) village.
The construction of the temple city began under Suryavaman I in the first years of the 11th century. It continued to be built and changed until the era of the great Angkor king Jayavarman VII (1181-1220). So the visitor can find here all the elements of Hindu and Buddhist Khmer-Angkor architecture of three centuries. Very impressive is a huge statue that is supposed to represent Jayavarm VII.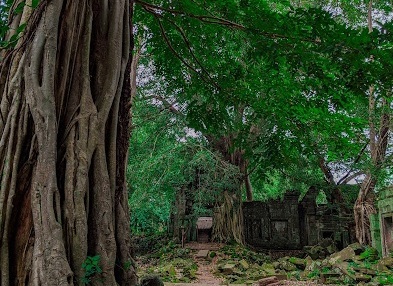 On Google maps you can see that its outer moat is about 4.5 km x 4.5 km long. This makes this complex, which was certainly built as a city with many inhabitants, larger than Angkor Thom. Its orientation from north-east to south-west is interesting, while all the temples and facilities at Siem Reap are strictly north-south (east-west). At the north-east end is a huge artificial lake (Baray). The Mebon (name for a temple in an artificial lake), which is usually located in the middle, refers to its original size of about 3.5 km (NE to SW) x 1.25 km.
The inner temple complex is about 1,200 x 750 m in size, the longer side also runs from northeast to southwest. On the north-east edge of this inner complex is another baray measuring approximately 900m (northeast to south-west) x 450m. Only the northeastern part of the larger baray above is filled with water during the rainy season.
The temple is largely in ruins and much more overgrown by jungle than Ta Prohm. It is extremely unlikely that a visitor will meet another visitor here, apart from a few residents of the village, mainly children. Cambodian visitors very rarely stray here.
Decide to do this somewhat long day trip from Siem Reap. You will be fascinated.