2017/05/12
Cambodia's recent airlines history since 1993 has seen a number of almost 20 of passenger airlines starting and closing their business, some of them within months after their inauguration flight. The oldest operating passenger airline, Cambodia Angkor Air, is the national flag carrier of Cambodia. The inauguration flight took place in July 2009. There are now five passenger airlines offering regular flights. Currently there are only two domestic flight destinations: Siem Reap (Angkor) – Phnom Penh and Siem Reap (Angkor) – Sihanoukville. The table below gives an overview.
In the 90th and 2000th regular flights had been operated between Phnom Penh and: Battambang, Banlung (province Ratanakiri), Sen Monorom (province Mondulkiri), Kratie (province Kratie), Koh Kong (province Koh Kong), Sihanoukville. It is not expected that these flights will resume soon. Main reason for cancellation of these destinations is that conditions of national roads for overland travelling have been improved. It is difficult to give recommendations to travelers for their decision about what airlines to take for flying on domestic flights. Most airlines have been operating for less than five years. Cambodian Angkor Air is mainly managed by Vietnam Airlines and most foreign travel agencies and visitors trust Cambodia Angkor Air for this reason.
None of the above five Cambodia based airlines have a record of fatal or non-fatal accidents / incidents or hijackings. But none of the above five airlines is a member of an airlines alliance like SkyTeam, Star Alliance or Oneworld. Vietnam Airlines is a member of SkyTeam. There is a large number of airlines flying into Cambodia from Asian countries and the Middle East. Website of the three operating international airports Phnom Penh, Siem Reap and Sihanoukville:
www.cambodia-airports.aero.

Inauguration flight
December 2014
Aircrafts
3 A320-200 Airbuses, that were formerly owned by Vietnam Airlines
Owner 
Joint venture between NagaCorp (the casino, etc.) and the Chinese government
Domestic destinations

Between Phnom Penh and Siem Reap
International destinations

Between Phnom Penh and Macau
Remarks

Cheap carrier,
tickets $19-50 one way

Inauguration flight
July 2009
Aircrafts
2 Airbus A320-200, 1 Airbus A321-200,
4 ATR 72-500
Owner 
Joint venture by the Cambodian government (51%) and Vietnam Airlines (49%)
Domestic destinations
Between Phnom Penh and Siem Reap, between Siem Reap and Sihanoukville
International destinations

Between Penh Penh / Siem Reap and Hanoi / Ho Chi Minh / Guangzhou / Shanghai / Bangkok / Hongkong / Luang Prabang / Vientiane
Remarks

Fleet and most of its staff are leased from Vietnam Airlines

Inauguration flight
December 2014
Aircrafts

1 Airbus A320-200,
2 Chinese made Xian MA60
Owner 
Subsidiary of Chinese carrier Joy Air (owned by China's China Eastern Airlines)
Domestic destinations
Between Phnom Penh and Siem Reap, between Siem Reap and Sihanoukville
International destinations

none

Inauguration flight
March 2017
Aircrafts
2 Airbus A320
Owner 
Partly owned by Yunnan Jingcheng Group
Domestic destinations
Between Phnom Penh and Siem Reap, between Siem Reap and Sihanoukville
International destinations

none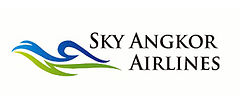 Inauguration flight
July 2011
Aircrafts
4 Airbus A320-200, 1 Airbus A321-200
Owner 
Joint venture of Korean and Cambodian investors with focus on Korean market
Domestic destinations
none
International destinations

Between Siem Reap and: Beijing, Xiamen, Singapore, Hanoi and Korea (Busan, Daegu, Seoul)