In this article we would like to introduce you to the exceptional Cambodian circus arts. For your visit to Siem Reap and its many temples, the Circus PHARE is an enriching cultural diversion.
PHARE was formed in 1994 by 9 young men coming home from a refugee camp after the Khmer Rouge regime. In Battambang they founded an art school and public school and later the circus school. Today PHARE offers a full evening entertainment: Shopping, dining and live performance theater.
More than just a circus, Phare performers use theater, music, dance and modern circus arts to tell uniquely Cambodian stories; historical, folk and modern. Phare artists are students and graduates from Phare Ponleu Selpak's (www.phareps.org) vocational training center in Battambang.
Tickets are available for US$ 18 (seating in section A), US$28 (seating in section B) and US$38 (seating in section C).
Performances are held almost daily (see https://pharecircus.org/calendar-productions/).
SHOPPING
Start your evening entertainment shopping for original arts and crafts produced by students and other local craftspeople.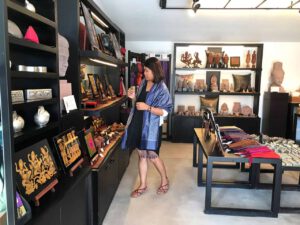 photo © https://pharecircus.org
DINING
The evening entertainment continues with dining at the Cambodian Street Food festival at Phare Café. Enjoy a cold drink, light snack or a complete dinner. As the sun sets and the the colorful lights come on, a unique ambiance is created that can only be experienced at Phare. There's something special about dining next to the authentic, red big top.
In addition to a la carte dining, delicious 3 course set menus are available (advance reservation required) for dining before or after the show.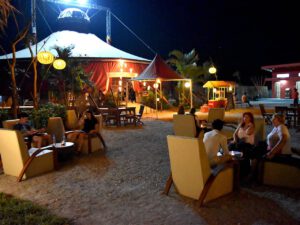 photo © https://pharecircus.org
CONTACT
https://pharecircus.org
ticketing@pharecircus.org