In recent years, Cambodia has made considerable efforts to modernize its rail network. Currently Royal Railway Cambodia is offering the following connections:
– An airport shuttle in Phnom Penh (every 30 minutes)
– The route between Poipet (Thai border) – Phnom Penh and Phnom Penh – Sihanoukville (Gulf of Thailand)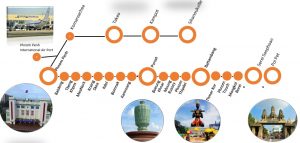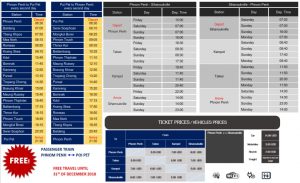 You can find the timetable and ticket prices here
The passenger trains are air-conditioned, have electrical connections (220 V) and WiFi. Tickest can even be booked online with Royal Railway Cambodia here.
The leisurely journey by train is a very special experience through the impressive landscapes of Cambodia, as the video published by Royal Railway Cambodia on its website demonstrates, even if it is just a freight train.